St Helena
---
NB:
This content is part of our wiki-like trails DB. If you feel it can be improved
Login
or
register
to make your contribution.
A technical single trail that complements the Oaks in the Blue Mountains. This trail is either an out and back, about 8km each way. Or an out leg towards a cliff escarpment with an extremely technical descent that is hike-a-bike only (eg. you have to carry your bike down and out the other side), about 20km in total.
Meeting Point:
As this ride is only reached from the top of The Oaks please refer there.
Full Description:
St Helena is a very technical single track running off from the Oaks in the Blue Mountains. It is not a particularly long ride in terms of distance. However the general state of the trail will not suit all riders. There are numerous rocks strewn about on the trail, with many ascents and descents on sandstone rocks, requiring a rider with at least intermediate skills to negotiate all of these obstacles. Caution - there will be some hike-a-bike on this trip!!
When riding the Oaks, about 5km into the ride from your departure at Woodford, you will come across a left turn off the main fire trail into a single track. Once you have started your journey along the Oaks, it is the first major turn off to the left, and is the only trail that continues for any length of time. The entrance to the trail head is shown here: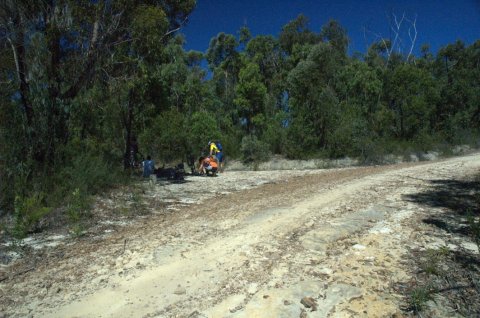 Now carry on for about 8km of very sweet single track. This trail consists of many undulations and pinch hills (both up and down) on rarely maintained, sandstone rocks and dirt. The climbing on these rocks is very reminiscent of the Great Northern Road, which seriously tests the technical climbing skills of any good rider. If you are the day's first rider through that section of trail, expect a few spider webs in the face.
You should expect to dismount on various occasions through the various uphill sections of trail, as you will not get the line right, or your power down, perfectly all of the time. You will need to look ahead, pick your line, negotiate each obstacle, and keep some speed up. Careful on the downhills, as these can be treacherous if you are going too fast. Here is one of the hills you will need to climb/ride/walk: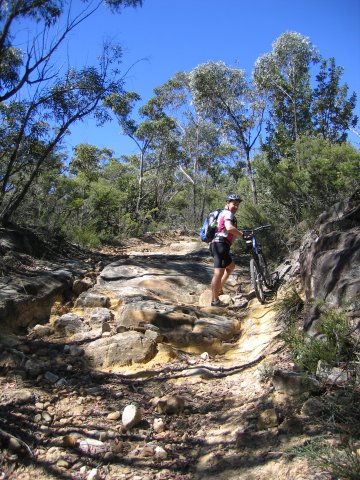 After riding for about 30 minutes, you will come across a fork in the trail. There are 2 small boulders to the right of the fork, as you approach. This also sits in a small clearing. This may be a suitable place to stop for a breather and something to eat. The trails to this point are tricky, technical and exhausting. You may also want to think about heading back if you are doing an "out-and-back". The trails to follow are extremely technical, bordering on crazy and dangerous (if fully ridden). For the brave or seriously stupid, there are no thoughts of turning back. For the rational amongst us, walking some parts of the remaining trails on the descent into the valley is the smartest move.
Once recovered from your breather, take the right branch of the fork, and continue on for a few more kilometres. You will eventually arrive at what can be described as a cliff edge, or an escarpment, leading down into the valley that comes out the other side, at your destination at Glenbrook. The climb down, and the climb out the other side will be a hike-a-bike as this track is for walkers only from this point.
After quite a lot of walking you will arrive in the valley floor, with a large stream to cross. This may be particularly large if there has been recent heavy rain. But don't worry, there are no known populations of piranha in this stream. Although you or your bike may be going for a swim if you are not careful in the loose footing. Cross the creek, angling towards the left as you approach: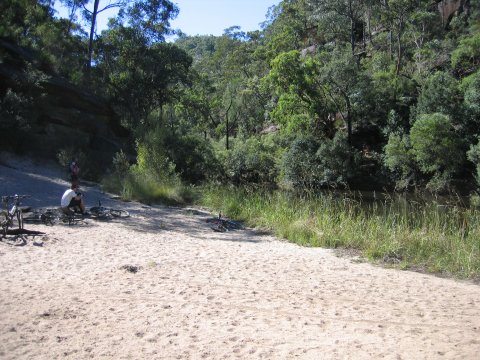 Sounds easy? You now need to hike-a-bike the entire far side of this hill back to the top!! Mt Everest may seem easier at this point. This will take you 30 minutes. Unfortunately the locals have not built a chairlift for this. This climb consists of steep rocks and boulders, loose dirt, and probably a scattering of bad language and heavy breathing. The trail is still clearly discernible though, so you are still able to see where you need to be going. By the end of this climb, your bike will be feeling very heavy. You may have invented a few new swear words too.
Once back out at the top, follow the single trail back towards civilisation. Continue on along these trails into the back streets of suburbia. Not long after, you will eventually cross the railway tracks at a bridge, and you are back at the railway station car park. A well earned cappuccino awaits you at the shops.
Facilities:
Take all you need to eat or drink with you. This trail is hard work, so 2-3 litres is a must. There is food and drink at Glenbrook shops afterwards.
Ride Profiles Here
Nepean + Oaks + St Helena
(46.57Km)
Up the Oaks taking in Pisgah Ridge, not quiet to the top then return via St Helenas hike-a-bike section.
Past & Future Ride Meetings Here
| Title | When |
| --- | --- |
| | 12 years 8 weeks ago |